In the pursuit of a sustainable lifestyle that values fresh and wholesome foods, Electrolux presents a solution that caters to both convenience and sustainability. The journey to a more substantial, eco-conscious home refrigerator commences with the understanding that increased capacity can elevate your culinary experience. With ample storage for family-favorite fresh foods, leftovers, and prepared meals, a larger refrigerator ensures you have the room you need while reducing unnecessary grocery store trips. Discover how Electrolux's large-capacity refrigerators align with your aspirations for a sustainable, efficient, and fresh lifestyle.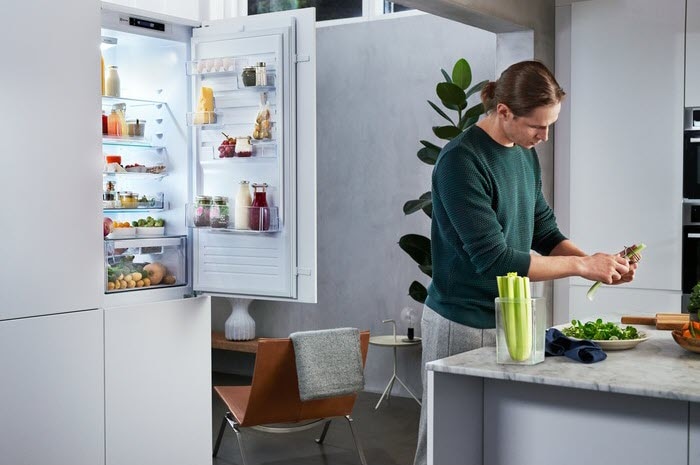 The dimensions of a large-capacity refrigerator

Unlike conventional standards, there's no rigid definition of a "large" or "extra-large" refrigerator. Generally, large-capacity refrigerators span between 80 – 100 cm in width, over 165 – 190 cm in height, and 70 – 85 cm in depth. This equates to a capacity ranging from 350 to 650 liters. If your current refrigerator is struggling to accommodate your family's needs, it's an indicator that it's time to embrace the advantages of a larger fridge.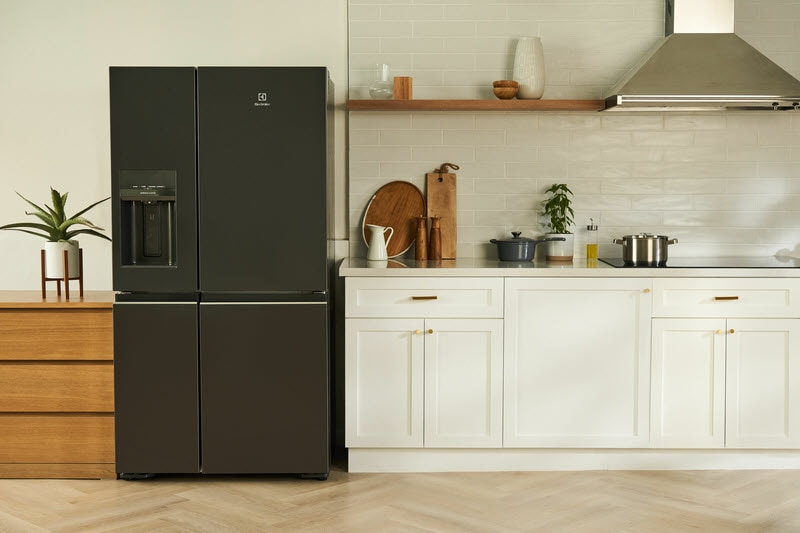 Configurations that cater to your needs

Electrolux's commitment to sustainability encompasses not only functionality but also the intelligent use of space. While dimensions matter, the optimal configuration is equally vital. Whether you opt for side-by-side, French door, top freezer, bottom freezer, or counter-depth models, each configuration is designed to offer accessible storage and efficient organization.


Side-by-side refrigerator


Side-by-side refrigerator – this vertical storage configuration empowers you to designate zones for fresh and frozen items, placing everything precisely where you need it.


French door refrigerator


Discover the Electrolux French Door Refrigerator, a true embodiment of culinary convenience and sustainability. Embrace the luxury of abundant storage, ensuring your family's favorite fresh foods, produce, and prepared meals find a hygienic and organized home. Elevate your kitchen experience with a refrigerator that aligns with your values of efficiency and mindful living.


Large bottom-freezer refrigerators


With a substantial capacity, large bottom-freezer refrigerator offers a spacious interior to accommodate your family's fresh foods, produce, and more, ensuring a well-organized and hygienic home for your essentials.


Large top-freezer refrigerators


With ample capacity, this classic top-freezer refrigerator provides a generous interior to house your family's fresh foods, produce, and essentials, ensuring an organized and clean environment for your items.
Which is the largest refrigerator?

Navigating the expansive realm of large-capacity refrigerators, Electrolux introduces a selection that harmonizes spaciousness, sustainability, and functionality. Our range ensures that you have exactly what you need, exactly when you need it.

Discover the top Electrolux large refrigerator here

Innovative storage solutions: Say goodbye to compromise. Electrolux's large-capacity refrigerators are thoughtfully designed to optimize space. The versatile and adaptable storage features like TasteSealFlex convertible compartment lets you store a wide variety of foods at the ideal temperature. With five temperature settings ranging from -23°C to 7°C, you can always find the perfect spot to keep your food fresh and flavorful.

Flexibility and organization: Embrace flexibility with frameless glass shelves that adapt to your storage needs. Whether you're storing fresh produce or leftover dishes, you have the freedom to organize your items without constraints.


The path to sustainability and convenience

As we journey towards sustainability, our choices in home appliances play a pivotal role. Electrolux's commitment to a green future extends to our refrigerators, which not only accommodate your lifestyle but also enhance your sustainable practices. (By investing in a large-capacity refrigerator, you're making a conscious choice to)


Minimize food waste


The spacious interiors allow you to store a variety of foods while keeping them visible and easily accessible. Reduced food waste aligns with sustainable values.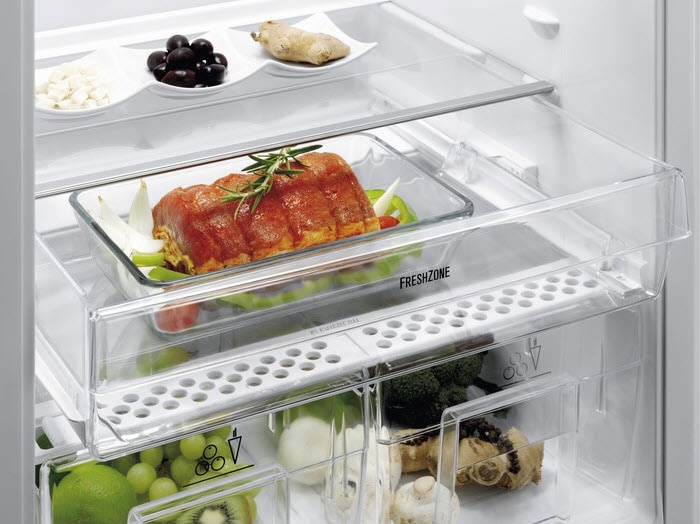 Reduce energy consumption:


By stocking up on essentials and reducing trips to the grocery store, you're indirectly lowering energy consumption associated with frequent store visits.


Enhance food preservation:


Electrolux refrigerators are equipped with innovative features that keep food fresher for longer, minimizing the need for excessive packaging and single-use plastics.

Here are more tips for you to preserve food:
Elevate your lifestyle today

In the quest for a more sustainable and convenient lifestyle, Electrolux's large-capacity refrigerators stand as an embodiment of progress. With dimensions tailored to accommodate your needs and configurations designed for optimal organization, these refrigerators are more than appliances; they're enablers of mindful living. By embracing a larger refrigerator, you're embracing sustainability, convenience, and the potential for culinary creativity.

Experience the seamless integration of sustainability and convenience with Electrolux's range of large-capacity refrigerators. Discover a world where freshness thrives and food waste diminishes, all while enjoying the extra storage space you deserve. Electrolux invites you to make a choice that resonates with your values and empowers your everyday life.