Newer washers nowadays offer more flexibility and features. Some Electrolux models have washing machine programmes specially designed for your different needs like Quick Cycles to suit your schedule, Woolmark Blue cycle for hand-wash-only woollens, and HygienicCare to remove up to 99.9% of allergens and germs.
Read more:
All things you need to know about Electrolux washing machine.

Step 4: Add detergent, softeners, and boosters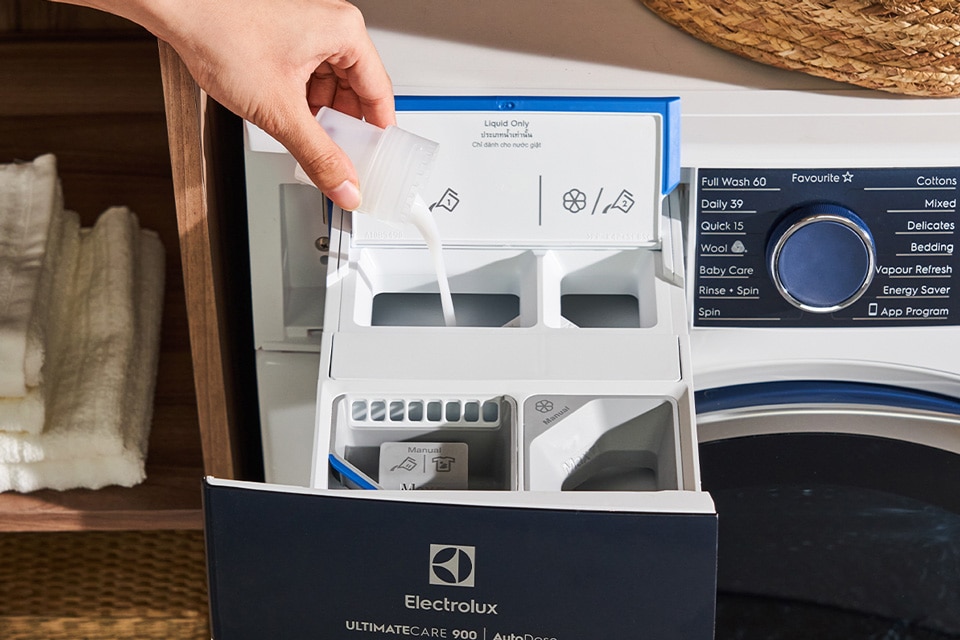 In choosing the right detergent, know if your washer requires a high-efficiency type. If it does, look for products with the HE icon. They're formulated to reduce soap suds so you use less water.
Loading detergent, fabric softener, or other cleaning agents differ based on which you're using and your washer model. Best to refer to your machine manual on where and how to add them. You should also check your detergent box for the right amount to use. Here's a general guide:

For a front load washing machine
Front-loaders usually have a dispenser where you can put in almost everything. It's indicated where you can place liquid or powder detergents, pods, fabric softener, liquid bleach, and stain additives.
Do not exceed the maximum fill line.
Some models may have a pods compartment. If yours doesn't, pop them into the drum before loading clothes.
Don't sweat on the correct amount to use. Some Electrolux models have AutoDose technology which automatically and precisely releases the right dose based on the weight of your load. This prevents overdosing that can lead to clothes damage over time.

For a top load washing machine
If your top-loader has a dispenser, put in your powder or liquid detergent and fabric softener there. Some even have a separate compartment for liquid bleach. Don't go over the maximum fill line. If yours doesn't have a dispenser, pour them directly into the drum before loading your clothes. It's also best to turn on your water so they're thoroughly dissolved for the most efficient clean.

Step 5: Load your washer with clothes and turn on washer
Now you can finally load your clothes.
Don't overload the drum
to give the items space to tumble, and for water to effectively circulate. As a rule of thumb, leave a hand width of space between the top of the drum and your load. It's also best to distribute them loosely inside. Check your washer manual to know how much you can really fit in there.
To get the best results for each cycle, some models require you to indicate the load size. Here's a guide:
Small load: about ⅓ of the drum
Medium load: about ½ of the drum
Large load: about ¾ of the drum
To learn more about how to use washing machine effectively, please watch our
how to use front load washing machine video series
.

How to keep your washing machine clean and fresh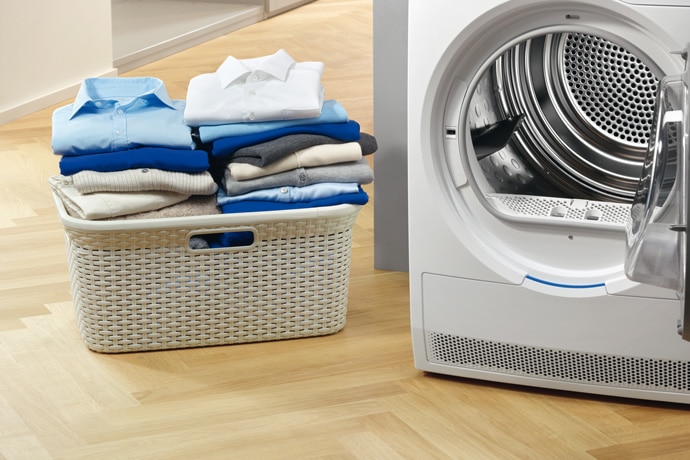 Your clothes shouldn't only be the only ones clean. After washing, don't forget to clean your washer to keep it running at its best for longer.
After the spin cycle, immediately take clothes out of the washer to prevent mould forming in your drum.
After every laundry session, leave your front-loader's door ajar for air circulation.
Once a month, use a washing machine cleaner for a deeper clean. Place it in the detergent dispenser or drum, then run the hottest cycle or the special cleaning programme. Electrolux models have Tub Clean or Clean Washer cycles.

Remember these basics
While washing machines widely differ in terms of their handling and their special programmes, these are the basics you need to know to correctly operate any model. Ultimately, how you wash your clothes depends on the washer you choose. The right one should be more than capable to address all your needs and make laundry less of a chore.
Discover the wide range of Electrolux washing machines here.